HIGHLIGHTS
100% Made in Italy
Interchangeable Rails 40, 60, 80, 100, 150 cm
8 High Precision Steel Ball Bearings
Professional Equipment
Billet Anticorodal Components
ST-66 Polymer Wheels
20 kg Load Capacity
3/8"-16 and 1/4"-20 Mounting Threads
Ready for Motion Control
5 YEAR WARRANTY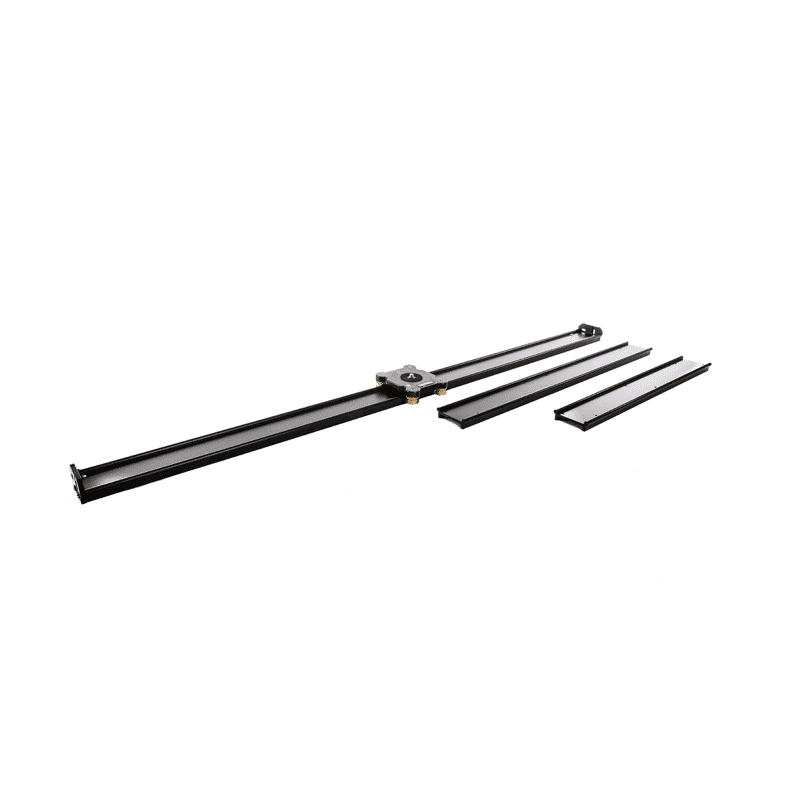 RAILS

Anitbending Rails, with the record width of  84 mm (3,3"), realized to guarantee an absolute stability even for the heaviest video cameras Each Slider supports a load over  20 Kg (44 lb) and is ready to be motorized or equipped with other accessories. Suitable for any type of photo or video head with 3/8"-16 thread, any Slider Modula could be installed easily and rapidly also over tripods and filleted plates of 1/4"-20 and 3/8"-16.
AN EXTRAORDINARY UNION
A perfectly stable carriage deserves the most advanced carriage wheels on the market.
We made them from ST-66, an exceptionally strong, chafe-resistant and non-acoustic technopolymer we developed ourselves.
Combined with a record number of eight ball bearings these wheels guarantee unparalleled smoothness and a maintenance-free, silent and smooth operation.
FRICTION SYSTEM
A double friction system allows to act both on the wheel assembly system and manually in order to adjust the feeling of your tracking shot in real time through the control knob.
RIGGING
Mount it on any type of ⅜" photo or video head.
Slider Modula has three bottom plates with ¼" and ⅜" mounts — one at each end and one dead centre — perfect for quick-release, tripod mounting or lightstands.
Or mount it on even the most delicate surface without the risk of damage due to its rubber feet.
QUALITY of Made in Italy
Each component undergoes two distinct types of treatment: the first one, by shot peening through ceramic spheres, increases the hardness and the resistance to fatigue of the object and, in addition, provides a pleasant hi-grip finish. The second treatment, anodizing at 30 microns, protects the device from any external agent. These technical solutions allow the use of the ShooTools Camera Slider Modula from the Namib Desert to the glaciers of Greenland.
Rails  x Antibending Rails
Width Rail Record size of 84mm (3,3")
Load Capacity 20 kg
Wheels ST-66 Special Polymer Wheels
Ball Bearings 8 High Precision Ball Bearings
Supports Rubber support bases at the far end
Friction System ShooTools Double Friction System
Screw Thread 3/8"-16
Tripod Mounting Threads 3 x 1/4"-20 // 3 x 3/8"-16
Materials Anodized aluminium, steel ball bearing, PSU polymer wheels
Weight 40cm /1,3 kg
Weight 60cm /1,3 kg
Weight 80cm / 2,6 kg
Weight 100cm /2,6 kg
Weight 150cm / 3,8 kg
Treatments Shot peening through ceramic spheres // Organic Anodization at 30 micron
What's in the box?
Rails with the choose length of: (40, 60, 80, 100, 150) cm
Carriage with Brake and Friction System
Non-woven fabric wrapper
Set-up Keys
Instruction Manual