HIGHLIGHTS
100% Made in Italy
3 Interchangeable Rails 40 cm / 80 cm / 150 cm
Motion Control Plus Included
Double Motor Included
Billet Anticorodal Made
Shoot Move Shoot Technology
Manual and Motorized Motion
8 High Precision Steel Ball Bearings
ST-66 Polymer Wheels
5 YEAR WARRANTY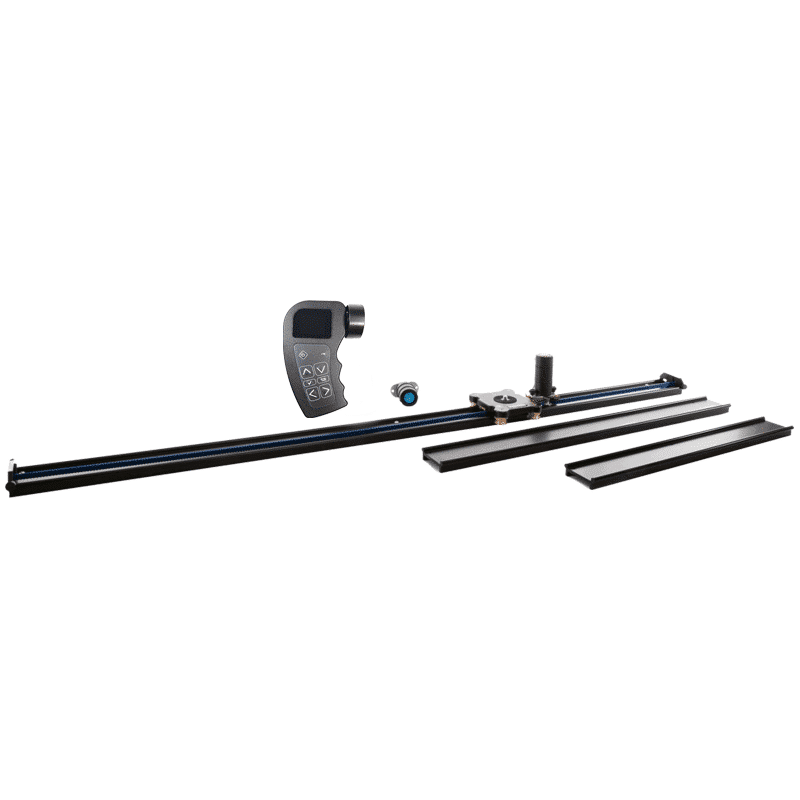 CARRIAGE
A universal carriage, obtained through CNC process from a unique aluminium block, with Brake and Friction System is characterized by an extremely high quality of the materials, high steadiness and ergonomy.
WHEELS
Special wheels realized with an innovative ST-66 technopolymer studied by ShooTools in order to guarantee max smootness and extreme carriage fluidity.
Each wheel is characterized by a double steel ball bearing that equipped the exclusive ShooTools' wheel assembly, for a max fluidity of movement and performance.
FRICTION SYSTEM
A double friction system allows to act both on the wheel assembly system and manually in order to adjust the feeling of your tracking shot in real time through the control knob.
CONTROLLER
It's the operating essence of Motion Control, that combines electronics with long-lasting accumulators. A device with two functions for Tracking Shots and Timelapse and 3 different mode of action: Loop, Sync and No Stop.
TRACKING SHOT
Characterized by extremely precise and fluid tracking shots and by the opportunity to manage speed, direction, acceleration and slowing-down, it is possible to realize terrific syncronized tracking shots that can automatically end at the track end (Sync), detour in an endless movement (Loop) or keep shooting once having reached the track end (No Stop).
TIME LAPSE
The motion uses SMS (Shoot Move Shoot) Technology that allows to synchronize the carriage move with the Reflex shutter. This feature gives the possibility to use any exposure time, with no worry about blurry. The pause between a move and another can be set in a range from 1 second to 99 hours thanks to an intervalometer integrated into the controller.
STOP / MOTION
Easy Stop Motion mode give a new movement of camera at your Stop/Motion Videos
MACRO
Amazing Macro Tracking Shots with the lowest speed of 0,078 in/s (2 mm/sec) Two electronic end stops arrest the carriage once reached the track end or when finds an obstacle during the carriage motion (safety mode)
MOTION CONTROL
2 motors of 55 R.P.M. and 09 R.P.M. are included and are easily interchangeable, accordingly with the professional's needs.
The two electronic end-stops placed at the beginning and at the conclusion of the rails stop the carriage at the start/end of the rail or in case an obstacle is placed along the carriage while shooting (safety mode).
Rails 3 x Antibending Rails 40 cm / 80 cm / 150 cm
Width Rail Record size of  84mm
Wheels ST-66 Special Polymer Wheels
Ball Bearings 8 High Precision Ball Bearings
Supports Rubber support bases at the far end
Friction System ShooTools Double Friction System
Screw Thread 3/8"-16
Tripod Mounting Threads 3 x 1/4"-20 / 3 x 3/8"-16
Materials Anodized aluminium, Steel ball bearing PSU polymer wheels
Weight 40cm / 1,3 kg
Weight  80cm / 2,6 kg
Weight  150cm / 3,8 kg
Treatments Shot peening through ceramic spheres Organic Anodization at 30 micron
Battery Life Over 48H in Timelapse and 22H in Video mode
Modes MULTIMODE: Sync, Loop, No Stop
Motor 55 Min Speed 0,94 in/s (24 mm/sec)
Motor 55 Max Speed 3,93 in/s (100 mm/sec)
Motor 55 Horizontal Load ±  10 kg (22 lb)
Motor 55 Vertical Load ± 2,5 kg (2,5 lb)
Motor 55 Minimum Shift 0,4 mm (0,15")
Motor 09 Min Speed 0,078 in/s (2 mm/sec)
Motor 09 Max Speed 0,39 in/s (10 mm/sec)
Motor 09 Horizontal Load ± 30 kg (66,1 lb)
Motor 09 Vertical Load ± 7,0 kg (15,4 lb)
Motor 09 Minimum Shift 0,06 mm (0,002")
What's in the box?
3 Rails with the length of: 40 / 80 / 150cm
Carriage with Brake and Friction System
Motion Control Plus
Controller Plus
Motor 55
Motor 09
Battery
Battery Charger
Non-woven fabric wrapper
Belt 240 cm
Set-up Keys
Instruction Manual